Move over Minions
In Despicable Me 3, Gru discovers he has a brother.
We were tasked with helping teens and tweens rediscover him and the other key characters in Illumination Entertainment's animated feature (besides the beloved Minions) in a fun way for a global TV promo and social campaign.
30+ broadcast & social content created
Positive connection to Gru as a cool character
Content used in 15+ markets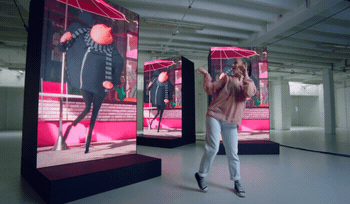 Gru's got the moves
We studied the character of Felonius Gru and he's a pretty cool guy. And the two previous films show he's got some serious moves. DM3 was set to feature plenty of dance scenes too, so we thought it'd be fun to take some of his best bits, and those of the new baddie Balthazar, and see what some award-winning young dancers would make of them.
Smooth manoeuvres
We produced three key pieces of content targeted at different audiences, starring four up-and-coming street dancers, including one b-boy champion.
A complementary suite of bitesize edits for social seeded around the world from pop-up TV channels to Snapchat to Instagram, inspiring live experiences with local dancers.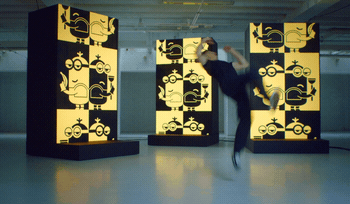 Balthazar dance
The new character of Balthazar is a 1980's throwback so his piece worked well with parents who survived the dodgy haircuts and dance crazes of that era (Hammertime anyone?).
Gru dance
Whereas the key piece of content was aimed to wow teens with the epic moves, this second Gru video helped younger kids to copy some of the easier moves for themselves at home.
Dance moves
We segmented the top 10 dance moves as individual stings, delivered as square and vertical content across all Universal Pictures social channels.